It's great to see when local businesses team up to support one another, whether that's Dovetail Deli providing shelf space to sell products from Gold Forest Grains and McKernan Food Works, or Remedy Cafe stocking vegan Bloom Cookies at the counter. There is strength in numbers, as awareness is half the battle, and it takes a community to move these independent brands forward.
The tasting organized by Credo Coffee and Jacek Chocolate Couture is another great example of this. When the tickets were released in late summer, I jumped at the excuse to enjoy two of my favourite things. Mack and I had attended a wine and chocolate pairing two years ago at Baseline Wines, and had found it to be a fun and educational experience. And given Mack's already a fixture at Credo, he didn't need any additional incentives to come along this time around.
Coffee and chocolate
In mid-November, Mack and I bussed over to Credo on 124 Street. We joined a fairly small group, less than two dozen in number, who seemed just as excited for the evening. Chelsea (from Credo) and Jamie (from Jacek) welcomed us and explained that the partnership between the two businesses began in 2010, when Credo became Jacek's first retail partner. They have collaborated since then, working together to produce The Credo Bar earlier this year, a dark chocolate combined with espresso beans, and then, most recently, to organize a series of tastings.
Jamie and Chelsea
The focus of the evening was on "mindful eating" – to deliberately and thoughtfully experience each taste, as opposed to what we're all guilty of at times – consuming in haste or (for me, with coffee in the mornings) for pure sustenance. For reference, we were provided with copies of the Taster's Flavour Wheel, which would aid us in articulating the notes detected in coffee and chocolate. Both Chelsea and Jamie emphasized that everyone has a different palate, and as such, can pick up different flavours.
Flavour Wheel
We started with tasting three of Credo's coffees, all roasted by Chicago-based Intelligensia. Intelligensia rotates through several regions of coffee as they become available seasonally, moving from Central America in the spring/summer to Africa in the fall/winter. We started with perhaps my favourite single-origin, the Ethiopian Yirgacheffe, a light and floral roast. We moved to the Itzamna from Guatemala, a coffee grown on the grounds of a former silver mine. The farmers are committed to organic practices, choosing a labour-intensive path of applying clay to the roots of the plants to regulate their temperature. This coffee was definitely much fuller-bodied, with a toasted flavour. Lastly, we sampled the Ethiopian Kurimi, grown by farmers interested only in planting varieties indigenous to the area. Our fellow tasters noted the Kurimi had hints of lychee and jasmine.
Ethiopian Yirgacheffe
Onto chocolate, I was happy to learn about Jacek's new Fabric Collection. Launched on November 13, 2015, it is Jacek's first foray into bean-to-bar production. In the past, they've relied on Valrhona as their chocolate supplier, but now, they have the capacity to sort, roast, winnow and refine cocoa beans at their facility in Sherwood Park. Currently, they are producing three 70% single-origin varieties, all of which we tried that night.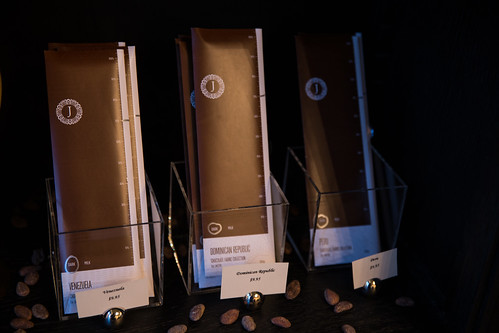 Fabric Collection
The Dominican Republic, refined for seventy two hours, had tropical fruit undertones. I already knew I would enjoy the Venezuela, typically the single-origin I choose, creamy and balanced. The Peru was a surprise – unlike the subtle flavours of the previous two, for us, it had very distinct notes of dried fruit.
The evening cumulated in two pairings. The first was to sample The Credo Bar, made with the Dominican Republic and Black Cat espresso (we were told this iteration was selected from twelve combinations). The flavour profile reminded me of the Mocha Bar that the now-defunct Kerstin's Chocolates had produced with beans from Transcend Coffee, but instead of the added texture of whole beans, The Credo Bar conches the cocoa and coffee beans together for a smooth finish.
We ended with an unconventional pairing – while I have incidentally enjoyed chocolate alongside tea, it's not a classic match. Here, we sampled maojian green tea with the single-origin Venezuela, and it worked. Jamie shared that this has been the gateway for staff to consider other unusual pairings, and future tastings may feature more tea than coffee.
Coffee cheers!
We enjoyed our first foray into coffee and chocolate tasting, and wouldn't hesitate to recommend it to others. Jacek and Credo have just added another pairing date on January 15, 2016, so it's something to consider as a gift this holiday season. Tickets are $40 each.