Mack and I may not be the target demographic for K-Days, but we love it regardless. It's an annual summer tradition for us – there's just no other festival in Edmonton that offers the variety of attractions, or a midway of that scale.
Midway
We were fortunate enough to have been asked to eat our way through some of the new food items offered this year. And knowing our consumption capacity, we thought it best to invite Amanda and Felicia with us on Saturday, two people also used to testing their limits.
Ready to eat!
Like last year, the one page map produced by K-Days helped us to locate the new dishes on the midway. However, it wasn't as intuitive as it could have been, as many of the vendor names didn't match the signage on the actual booths (Tin Lizzy for instance, home of the porcupine corn dog, was branded "Wiggle Chips" instead). I also had to wonder if the list was comprehensive, as none of the local food trucks participating were included on the listing (even though it was their first time at the fair), and Expo Centre vendors were conspicuously absent.
Juicy's Outlaw Burgers (home of the world's largest commercially available hamburger and hot dog)
We started our indulgence indoors at the Taste of Canada in Hall H. In 2013, we found the dishes inside to be of the best value (not to mention their relative distance from the deep fryer). Unfortunately, things changed, and the average price for a sandwich with a side of chips has risen to $13. Disappointingly, the menu was smaller and less enticing than last year. Given the recent launch of Northlands' Alberta Flavour initiative, it's surprising they couldn't have somehow incorporated more local ingredients in some of the dishes. We did note the cooking stage located in the same area, but without a posted schedule, we didn't know when the next demo would be conducted.
We ended up with a Montreal-style house smoked meat sandwich ($13.25). The sandwich itself was fine, if unremarkable. The side of kettle chips was the highlight for me, lightly salted and addictive.
Montreal-style house smoked meat sandwich
Back on the midway, Mack's annual corn dog was from a maple bacon breakfast corn dog ($7), served with a side of maple syrup for dipping. It was definitely light on the bacon, but Mack enjoyed it all the same.
Mack's maple bacon breakfast corn dog
Amanda's porcupine corn dog ($5) was the better deal, and more unique – a corn dog studded with French fries. She remarked that the fries themselves could have used a bit of seasoning, but other than that, she gave it a thumbs up.
Amanda and her porcupine corn dog
I was happy to see the return of Rib Fest. The theatricality of the staff is as much of a spectacle as the food itself.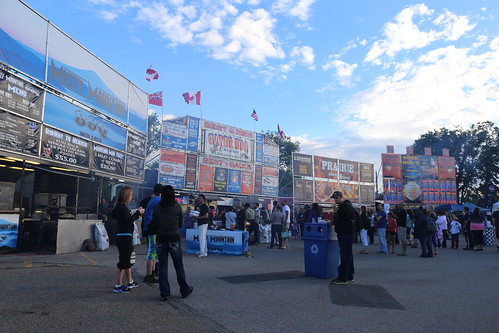 Rib Fest
That said, I'm not sure why the lines moved so slow this year. It took us more than 30 minutes to reach the front of a modest sized line, even though the transaction time for us between ordering and receiving our food was less than two minutes. The big attraction was Gator BBQ's pulled pork sundae ($9), a savoury concoction comprised of layers of mashed potato, baked beans and pulled pork.
Success!
The serving size was not for the faint of heart, and from a conception standpoint, I loved the idea of the sundae. Execution-wise, everything from the pulled pork to the potatoes was over salted to the point that we struggled to finish it.
Pulled pork sundae
My favourite item that night was the Royal Street turkey dinner poutine ($12) from Mardi Gras Grill. It was a creative take on comfort food, topping a bed of fries with cheese curds, gravy, slices of roasted turkey, stuffing and cranberry sauce. All of the individual elements were well-prepared – the roasted turkey would have been equally delicious on its own – but together, it was a tasty, one box meal.
Royal Street turkey dinner poutine
On the sweet side, I was most looking forward to the deep fried cookie dough ($7). Three generously battered and fried balls made up the serving, lightly dusted with powdered sugar. And though we all remarked that they were intensely sweet, they delivered – the chewy coating gave way to a soft chocolatey centre. Our only suggestion for improvement was to make them two-bite treats.
Deep fried cookie dough
Cin City Donuts offered a different take on the fair favourite of mini doughnuts. We tried their s'mores mini donuts ($5), which saw marshmallows, chocolate sauce and graham crackers replace the traditional cinnamon sugar topping.
S'mores mini donuts
It's worth noting that when I mentioned that Felicia is allergic to chocolate but still wanted to try it out, they ended up giving us two servings for the same price – one minus the chocolate sauce. Their generosity aside, we had assumed the dish would have been quickly broiled to melt the marshmallows, but no dice. As a result, the donuts themselves were on the dry side. We decided the traditional cinnamon sugar was the way to go.
Interspersed between bites, we took our time to explore the grounds as well.
One of the mini-parade floats
I had been hoping to catch a glimpse of the futuristic robots in the Techlife exhibit, but they had been packed up for the day. Still, there was lots to see in that pavillion, from the Hacklab where kids of all ages were putting together different models, to the mock stadium view they had set-up for gamers on stage.
Hacklab
Gamers on display
Next door in Hall C, we had the chance to indulge in a little gaming ourselves of the retro variety. There was an NES and a Super Nintendo set-up, with Teenage Mutant Ninja Turtles and MarioKart on rotation, respectively. I have to admit, I'm a bit out of practice – Amanda schooled me on MarioKart.
Out of practice
We also took in the Hockey Canada exhibit, and didn't pass up the chance to have our photo taken in front of a memorable backdrop (we think it's Eberle's tying goal in the 2006 World Junior Championships, but we may have heard wrong).
Felicia and I weren't ready for the photo
Hall A hosted the Farm exhibit, and we loved seeing the live animals.
The three little pigs
How about these three day old chicks?
We closed out the night with a final walk around the midway and fireworks.
Ferris wheel
At Northlands Park
All in all, we had a great day. Thanks again to K-Days for the chance to sample the breadth of this year's fair food!
K-Days runs July 18-27, 2014.